In Good Taste
Your Personal Chef Service in and around Westfield, Indiana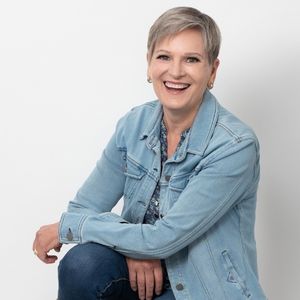 Hi, I am Liz Geeslin and this is how it all started
After 35 years as an equine professional living my "dream job" and then approaching the 50 year old mark, I decided I was ready for another phase to take place in my life. While eating out A LOT and not on any kind of regular exercise program, I had put on weight and then one day, I decided to make a change.
I made a commitment to eating better by learning to prepare healthier versions of meals my husband and I were eating and started with baby steps walking on the treadmill, eventually running (I use the term running VERY loosely). In May of 2003, I ran my first Indianapolis Mini Marathon and ran it for 5 consecutive years.
Before I knew it, 30 pounds were gone and I was on a roll. I knew I wanted to help others fulfill their wellness goals and decided to become a Personal Chef, focusing my new business on healthy home cooking.
I joined the USPCA (United Personal Chef Association) in the Fall of 2002, went through their Culinary Institute training in Atlanta and started In Good Taste Personal Chef Service in February 2003.
I fulfilled the requirements to become a CPC (Certified Personal Chef) after only 2 years in business and I am ServeSafe certified every 5 years.
I am passionate about cooking, but most of all, I am passionate about helping the people that are in my life because of my personal chef service. I am truly blessed to have an incredible family, wonderful friends, AMAZING clients and to be doing what I love!
How it works
My standard service is called a 5 x 4. This means I prepare 5 different entrees with 4 servings of each, for a total of 20 adult meals. When appropriate, the entrees will also have a side dish. I can increase the number of servings to 6 or 8 servings of each entrée to suit your family's size if needed.
I package each meal according to my clients needs. My single clients prefer everything portioned and packaged individually, as well as some couples that might be eating on different time schedules. I will do what works best for you. I also have clients that enjoy their meals as their lunch. These are meals ready to eat when YOU want them!
Once you have decided you would like to try my chef service, we will go over your questionnaire, I will answer any questions you might have and then we schedule your cook-day. I will plan a menu around your food preferences or you can select your entrees from the sample entrée lists.
It is my passion to help people eat healthy, delicious food and knowing they have an answer to that "What's For Dinner" question!
JUST A FEW YUMMY THINGS ON THE IN GOOD TASTE (IGT) MENU…
IGT New Orleans Salmon Cakes
Tender Salmon Cakes lightly seasoned with Creole Spices
IGT Chicken & Wild Rice Cakes
Crispy Pancakes with Chicken, Green Onions and Wild Rice
IGT Chicken Quesadillas
Flour Tortillas filled with Roasted Chicken Breast, Tomatoes, Corn, Black Beans and Mexican Cheese
IGT Gina's Turkey Burgers with Zucchini
Lean Ground Turkey Burgers with Zucchini, Red Onion and Garlic
IGT "Courtney" Chicken
Tender Chicken Breasts in a Mushroom Sauce topped with Bacon and Monterey Jack Cheese
IGT Almond Chicken Stir Fry
Tender Chicken Stir Fried with Colorful Bell Peppers, Asparagus, Water Chestnuts, Bamboo Shoots and Toasted Almonds
IGT Chicken Alfredo
Savory Sauteed Chicken in a Light, Creamy Cheese Sauce with Mushrooms and Roma Tomatoes
IGT Chicken Enchiladas and Spanish Rice
Corn Tortillas Filled with Seasoned Chicken, Corn, Onions, Green Chili and Cheese served over Spanish Rice
IGT Chicken in Marmalade Sauce
Sautéed Chicken Breasts with an Savory Sweet Orange Marmalade Sauce
IGT Creamy Penne with Chicken, Artichokes and Lemon
Whole Grain Penne Pasta with Chicken, Artichoke Hearts, Peas and a hint of Lemon
IGT Chicken Marbella
Sautéed Chicken in a Mediterranean Sauce with Capers, Prunes and Spanish Olives
IGT Angel Chicken Pasta
Tender Chicken Breasts in a Creamy Wine Sauce served over Angel Hair Pasta
IGT Curried Chicken Penne with Fresh Mango Chutney
Sautéed Chicken Breasts, Broccoli and Cauliflower Florets in a Red Curry Coconut Sauce tossed with Penne Pasta and Mango Chutney
IGT Gina's Zucchini and Tomatoes
A light Summer Sauce of Sauteed Zucchini, Shallots, Garlic and Fresh Tomatoes
IGT Meatballs in Roasted Tomato Sauce
Lean Baked Meatballs under a Roasted Tomato Marinara Sauce
IGT Dilled Meatballs with Vegetable Sauce
Dill and Dijon Turkey Meatballs in a Tomato Vegetable Sauce
IGT Pork in a Mushroom and Sun Dried Tomato Sauce
Roasted Pork Tenderloin with a Mushroom and Sun Dried Tomato Sauce
IGT Ginger Pork Sweet Potato Stir Fry
Stir Fried Pork Tenderloin strips in a Pineapple Teriyaki Glaze with Snow Peas, Sweet Potatoes and Red Bell Peppers
IGT Cajun Shrimp Stroganoff
Seasoned Shrimp in a Mushroom and Roasted Red Pepper Vermouth Sauce
IGT Lemon Risotto with Salmon and Asparagus
Roasted Salmon Chunks nestled in a Creamy Lemon Risotto with Asparagus
IGT Creamy Risotto with Salmon, Asparagus and Mushrooms
Roasted Salmon Chunks nestled in a Creamy Risotto with Asparagus, Porcini and Cremini Mushrooms
IGT Salmon in Lemon Dill Sauce
Baked Salmon with a light Lemon Dill Sauce
IGT Salmon with Orange Tarragon Sauce
Baked Salmon with a Grand Marnier Orange Glaze
IGT Sweet Orange Salmon
Baked Salmon with a Spicy, Sweet Orange Glaze
IGT Mango Salsa Tilapia
Tilapia Fillets in a Zesty Mango Salsa
IGT Tilapia California
Tilapia Fillets covered in a light Artichoke Pesto Sauce
IGT Tilapia in a Mushroom Wine Sauce
Broiled Tilapia in a Tarragon Mushroom Wine Sauce
IGT Tuscan Garden Tilapia
Tilapia Filets in a Tomato, Olive, Caper and Basil Sauce garnished with Pesto and Feta Cheese
IGT Tilapia Piccata
Flaky Tilapia Filets in a Lemon, Wine and Caper Sauce
IGT "Classic" Lasagna
A Lighter Classic Lasagna with Ground Turkey and Four Cheeses
IGT Almond Crusted Salmon
Salmon Fillets Baked with Almonds and Bread Crumbs
IGT Asian Meatloaf
A Healthy, Asian Version of a Traditional Meatloaf
IGT Bourbon Glazed Salmon
Broiled Salmon Fillets marinated in a Bourbon, Soy and Ginger Sauce finished with Toasted Sesame Seeds
IGT Braised Balsamic Chicken and Vegetables
Tender Chicken Breasts with Fennel, Onion, Red and Green Bell Peppers Braised in a Balsamic Orange Broth
IGT Cashew Chicken Stir Fry
Marinated Chicken Stir Fried with Red Bell Peppers, Snow Peas, Water Chestnuts, Bamboo Shoots and Cashews
IGT Chicken Parmesan
A Healthier, Traditional Italian Favorite of Breaded Chicken Breasts with Marinara Sauce and Cheese
IGT Dilled Pork Stroganoff
Pork Tenderloin in a Traditional Sour Cream Stroganoff Sauce with Fresh Dill
IGT Grilled Flat Iron Steak with Sake Glazed Vegetables
Marinated Flat Iron Steak with Red Bell Peppers, Asparagus and Mushrooms in a Sake Soy Sauce Glaze
IGT Italian Beef and Rotini Bake
Baked Pasta and Cheese dish topped with a Tomato Meat Sauce
IGT Jambalaya with Shrimp, Chicken, and Turkey Sausage
Spicy Cajun Rice dish made with Shrimp, Chicken and Smoked Turkey Sausage
IGT Kung Pao Chicken & Snow Peas
Chinese Spicy Chicken Stir-Fry with Snow Peas
IGT Light & Creamy Chicken Pot Pie
Chicken with Red Onions, Carrots, Mushrooms, Celery, and Peas in a fresh Rosemary Sherry Cream Sauce topped with a Toasted Bread Crumb Crust
IGT Mango Salsa Chicken
Tender Chicken Breasts baked in a Zesty Mango Salsa
IGT Mostaccioli Spinach Bake
Mostaccioli Pasta with Tomatoes, Spinach and Parmesan Cheese
IGT Mushroom Artichoke Chicken
Chicken Breasts Smothered in a Creamy Vermouth Mushroom Sauce with Artichoke Hearts
IGT North Carolina BBQ Pork Tenderloin
Pork Tenderloin in a North Carolina BBQ Sauce
IGT Rosemary Beef Stew
Lean Beef in a Tomato and Beef Stock with Rosemary and Herbs
IGT Salmon Dijon
Salmon Filets Baked with a Dijon Lemon Sauce
IGT Salmon with Herbed Cream Cheese
Baked Salmon Fillets filled with Herbed Cream Cheese
IGT Savory Pot Roast
A Traditional Slow Cooked Chuck Roast with Vegetables in a Red Wine Gravy
IGT Scallops in Roasted Red Pepper Cream
Sauteed Scallops in a Rich, Roasted Red Pepper Cream Sauce
IGT Shrimp in Tomato Artichoke Sauce
Shrimp in a Rich Tomato White Wine Sauce with Artichokes Hearts
IGT Super Stroganoff
Tender Lean Beef in a Portobello Mushroom Beef Sauce finished with Sour Cream
IGT Tilapia Florentine
Broiled Tilapia Fillets topped with a creamy Spinach Sauce and Parmesan Cheese
IGT Toscana Chicken
Tender Chicken, Mushrooms, Artichoke Hearts, Sun Dried Tomatoes and Spinach combined in an Italian Seasoned Sauce
IGT Chicken & Broccoli Parmesan
Sautéed Chicken Breasts with Broccoli Florets and diced Ham in a smooth Parmesan Sauce over Brown Rice
IGT Skillet Shrimp Orzo
Sautéed Shrimp in a Lemon White Wine Sauce Tossed with Orzo, Parsley and Parmesan Cheese
IGT Chicken in Apricot Sauce
Sautéed Chicken Breasts served in a Sweet Apricot Sauce with Red Bell Peppers and Onions